by Hazel Anna Rogers for the Carl Kruse Arts Blog
There is often a perceived disparity between the words "fashion" and "art." Many people fall at the feet of, say, a Gauguin, a Turner, or a Matisse, but upon hearing the word "fashion" quickly recede into their boots, or worse, scorn and sneer its name. I understand (I think) where they are coming from, though I certainly disagree with such a reaction. Fashion has been given the name of Primark, Topshop, New Look, and other such enterprises. It has been awarded characteristics of triviality, frivolity, and superficiality as a result of its mainstream-media nature. But, while we don't all paint or create art, we all wear clothes, and this is at least part of the reason for the popularity of pursuing fashion trends and observing the landscape of designers and seamsters. We are all at least somewhat picky about what we choose to wear every day, even if only for how comfortable and hard-wearing our clothing is. Fashion affects all of us. It can mean the difference between feeling good or feeling down when one leaves the house, or between being successful or not at a job interview. We can make statements about ourselves with our clothes, bring our internal sentiments to the fore with our exterior appearance. We can create art with our clothes, art just as valid as that on the walls of galleries. And that is what the renowned design competition the World of WearableArt (WOW) attempts to do.
In 1987, the little city of Nelson on the South Island of New Zealand hosted the first awards show in what would become one of the most innovative and flamboyant competitions in the world. The event was held outside a small restored cottage under a marquee dripping with rain. The mastermind behind this competition is Susie Moncrieff, inspired by a similar concept she had seen in Auckland years prior. Her idea has bloomed exponentially since that first show, where around 200 visitors came to watch, to over 60,000 every year at the event in the New Zealand capital of Wellington, as well as a permanent WOW Museum in Nelson where WOW found its humble beginnings.
WOW is not just a fashion show. It is theater, with all its excesses and vices, a show encompassing design with ecstatic movement and vibrant imagery. But what of the art? I must say it is most difficult to describe the pieces themselves, which are crafted by designers from over 40 countries and encompass the most exquisitely romantic of wearable designs to the most outlandish one can imagine. And often, the most impressive of the designs come from the least thinkable of places; in 2019, the winner of the Supreme WOW Award was Rinaldy Yunardi of Jakarta, whose design, "The Lady Warrior," was constructed from recycled paper made into rope which he wove tightly together to form a gloriously regal outfit in cool golden and beige shades. The dress is brilliantly balanced in its symmetry and grace and is equally resonant with classical Indonesian influences as modernist structural brutalism. It's beautiful, strong, yet fragile.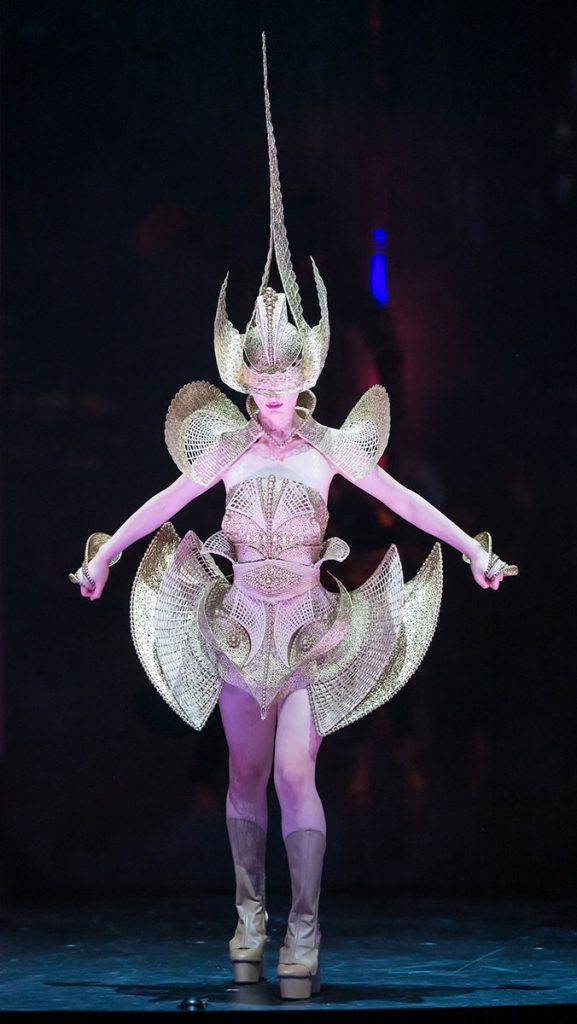 The Lady Warrior by Rinaldy Yunardi. Photo: The Last Fashion Bible
Many of the pieces that emerge from the WOW show are far more sombre than this example of Rinaldy's work. Some are so very nightmarish that they could only have come from the deep, dark depths of one's imagination. Take 'NightWraith', the 2019 piece by Australian artist Ildy Izso, aptly modelled in the 'mythology section' of the competition. It's a pure masterpiece in black, evoking such characters as Medusa and Sleeping Beauty's Maleficent. Despite its elegantly woven bodice and ornately jeweled eye-mask, reminiscent of the masqueraded balls of 16th Century Renaissance Italy, the piece is fantastically disturbing. Great spikes emerge through the shoulder-blades of the piece as though they had pushed through the skin of this mythological beast. Writhing snake-like spirals shoot from the head; long, Edward-Scissorhand-like fingers are poised in sophisticated demonism; metal chains choke the corset like makeshift ribs, and latex covers any visible skin, leaving the figure without a mouth. Yet, this piece is so stylish it almost hurts to look at it. The lace shoulder-cover is exquisitely delicate, the choker wondrously bejewelled. I love it, and I would even go so far as to say that I would wear it, albeit without the latex mouth covering (I think I'd prefer to breath).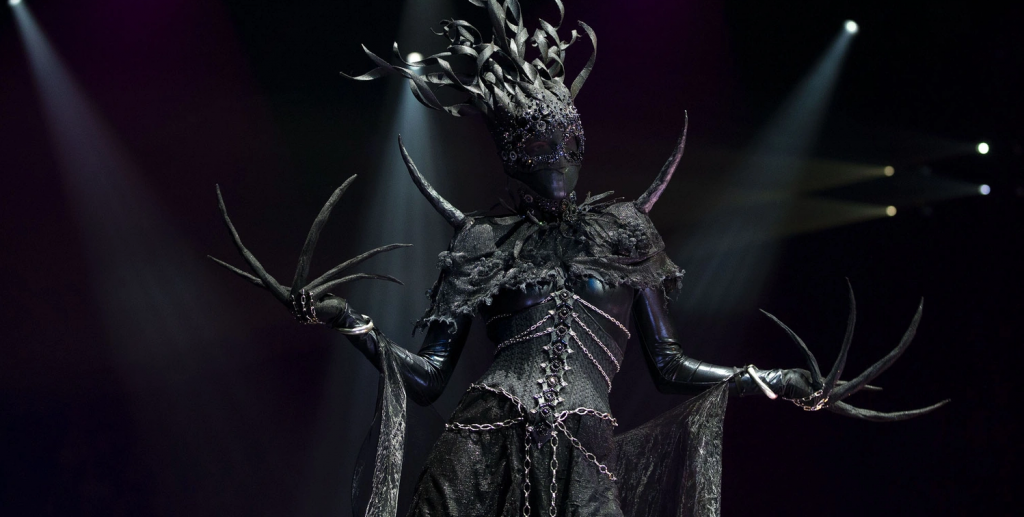 Nightwraith by Ildy Izso
"Wearability" is a primary part of the judging process in WOW. Each piece is considered for 1) Its health and safety (i.e., can the model breathe and see, is the piece comfortable to wear), 2) The quality of construction – it should be immaculately created, and not inclined to fall apart, 3) The conception of the piece must meet the brief of the section theme it has been entered into, and entrants must explain their conception at length, 4) It must be (surprise) innovative. This is obviously of utmost importance – the entrant must create a piece that is completely original, whether in perspective, material, execution, or all of the above. Many entrants are increasingly focusing on environmental awareness in their works, as we see in Rinaldy's piece. Fashion as a whole is gradually working towards sustainable work practices, in material sourcing, worker's rights, and manufacturing methods, and I think that such a creative execution of these values in the form of the WOW competition is a brilliant way to bring such matters to the fore, and to prove that being environmentally friendly does not cost us style.
Let us end this article with one of the most astonishing designs I think I have ever seen (though, in terms of wearability, I'm not sure I could pull this one off). The piece I'm talking about is Jack Irving's "Sea Urchin Explosion" of the 2019 competition. This United Kingdom designer has created works for the likes of Lady Gaga, and this piece brilliantly demonstrates his designing prowess. "Sea Urchin Explosion" is genius. A perfect blend of fashion and the natural landscape, an eruption of huge, vibrant red spines bursting forth from the human body. It does look like a sea urchin, an enormous, angry beast, perfectly symmetrical and blissfully satisfying to look at.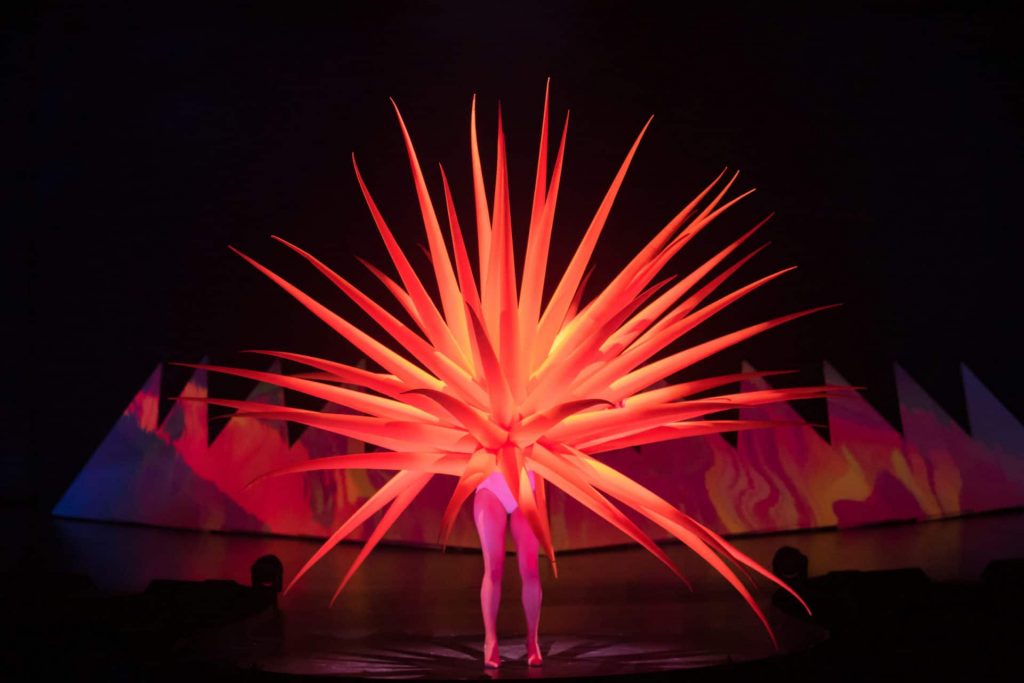 Sea Urchin Explosion by U.K. Designer Jack Irving at WOW
These works make me fall in love with fashion, and to me deem it a worthy art form to contend with my love for classical art. They inspire me to play more with my appearance, and to never doubt the impact that fashion can have in the art world.
Now, I don't know about you, but I'm going to go and put on the brightest clothes I have in my wardrobe, even if all I do in them is sit at home and write this article.

==============

Find the blog homepage at https://carlkruse.net
Contact: carl AT carlkruse DOT com
The last blog post was on neighboring Australia's Museum of New and Old Art.
Other articles by Hazel Anna Rogers include Van Gogh's Chair and When Did we Stop Criticizing Art?
Carl Kruse is on Saatchi Art.