by Asia Leonardi for the Carl Kruse Arts Blog

Into the urban traffic of Berlin so many people are walking, with them come ideas from all over the world, sometimes changing the surrounding environment. This is the case of Andrea Liguori, an architect from Palermo who has now lived in Berlin for many years. I had a pleasant chat with Andrea, where he told me about his work, his love for architecture and painting.

What brought you to Berlin, Andrea?

"What brought me to Berlin? A girl; sometimes happens that love takes you around the world … sometimes you move for work, other times because you meet someone who moves something inside you. What I always point out is that it's not so important how you got there but why you stayed there. In my case the reasons for staying were mainly the business aspect, Berlin is a beautiful reality, there is room for all: but also so much competition, and you have to
live with this. for an architect like me there is so much to do, and many possible niches… Here the field of architecture is very interesting because new construction sites are always opening, and Berlin has also an important role in the history of architecture, it was one of the headquarter's of the Bauhaus."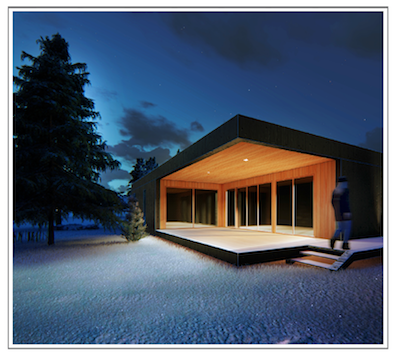 Woodhouse by Andrea Liguori
How did you start your career?

"My very first experience was working in a studio in Palermo with two partners, an experience that I abandoned once I moved. Here I started working in the studio of an architect who spoke Italian, and it was useful for me to start learning German. Gradually I got to know the local reality, I built new acquaintances, and I started being able to do some more personal projects. Today I am a consultant for a studio, with which I design new buildings, such as hotels and apartments … but I also have my studio, where I take care of my projects, which mostly concern bars, restaurants, or small villas."

And how do you divide yourself between the two activities?


"Since I am an external consultant, I can manage my time based on the importance of the projects I have. I work a lot, I often stay up late, I work on weekends, but all in all, when you find something you like it's a hobby, and you feel like you never work. I'm not saying it's exactly like that, because sometimes the tiredness is real, but I enjoy it. I never get bored because I like to differentiate. I'm also into furniture design. Me and a friend of mine have a company in Palermo, we design lamps, objects, we have also worked as
designers for Italian firms. In short, I have a holistic approach, I deal with a bit of everything that has to do with the world of drawing, design, architecture."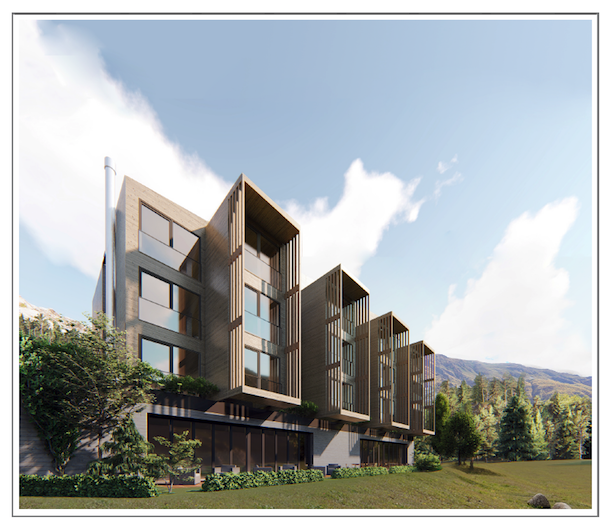 Andrea Liguori – Hotel in Georgia
How do your ideas arise, and how do you put them into practice?

"With architecture, there is a study of reference manuals, while the creative process in design is more important and lighter. It comes from the experience as an individual when you go to a place or buy an object, you look at it, you
are interested, you think about possible changes …but the best ideas always
come in moments of leisure, of freedom, as the theory of creative idleness explains: when you are relaxed, maybe take a shower, an interesting idea comes to your mind more easily."

How did you experience the lockdown? Was it a
period of greater creativity?


"When we are busy with everyday commitments there are many bureaucratic issues to complete, emails to write, accountants, lawyers, appointments to deal with. During the lockdown, all of this has slowed down a bit, I felt less pressure, and thus creativity increased. I have never been bored, thanks to my other passion that is painting… I paint with watercolors. Three or four years ago I also held a watercolor paintings exhibition in Palermo inspired by places in my city, and I keep painting to this day. I feel a little homesick now and then, but it relaxes me, I like the subject, and I continue to paint."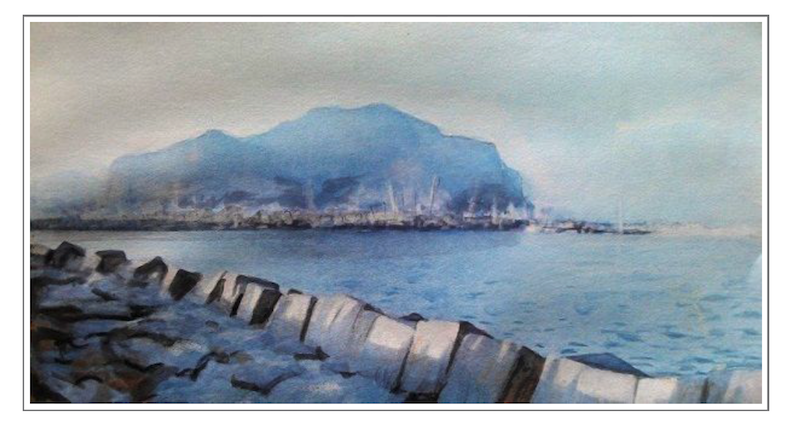 Foro Italico in Palermo. Watercolor by Andrea Liguori
Was there a project that had left a mark on you, or that you particularly enjoyed doing?

"There is no more important project than others, everyone has their importance. Projects are a bit like children for an architect. I like traveling a lot, and I try to do projects all over the world, and those have a special flavor to me, even if it's a smaller project. For example, at the moment I am working on the project of a large hotel here in Germany but I enjoyed doing a very small boutique in Miami, Florida last year because it was an opportunity to
discover a new world, a fun place … They are all projects born thanks to public relations, it is important in my opinion to convey your passion to others, you manage to involve them, and they call you and ask you for advice. Social networks also have their weight, with Instagram I share things that maybe don't have much to do with my work but that give the idea of my vision of the world, of what I like to do, and maybe if there is someone who knows me
and sees himself in my posts he looks for me, calls me and the affinity is
born."

Andrea is a fascinating man, with a firm and confident gaze; he knows what he wants and he knows how to get it. His university love continues to blossom day by day: he lives with his partner in his Berlin apartment. What struck me most about Andrea is the dedication and commitment he puts into his work, his delicacy in the choice of words, which reveals a brilliant creative intuition, typical of a successful architect. Transforming an idea into something real is what I admire most about architecture, and about art in general: Berlin's urban planning is varied, always open to new construction sites, always new, always changing, ready to welcome those who, like Andrea, dare to put their personality into this wonderful city.
Andrea Liguori with Italian President Sergio Mattarella
==========
Homepage: Carl Kruse Art Blog
Contact: carl AT carlkruse DOT com
Other posts by Asia Leonardi are here, here and here.
Berlin related posts on the blog include the Boros Bunker art gallery and coverage of Berlin artist Yury Kharcehnko.
Carl Kruse is active in Berlin with the Ivy Circle.