by Carl Kruse
My friend Adele Schwab has organized a photo exhibit in Berlin on two dates:
19 November 2021 (Friday) from 21.00-22:30.
20 November 2021 (Saturday) from 17.00-18.30.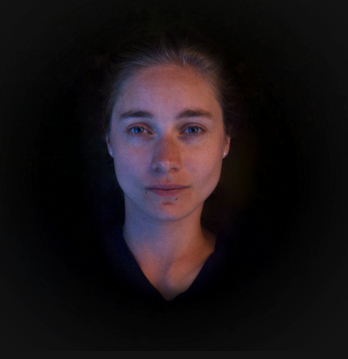 Adele Schwab. Photograph from the artist's website.
Her exhibit is titled, "Seeing the Unseen" an audio visual project that attempts to make air "visible" and investigates the issue of how to capture the unseen. The exhibit explores methods to capture an important yet unseen element, air.
Her work is part of a series on the environment, and was part of the "48 Stunden Neukölln Arts Festival," which took place this last summer. This is the first time it is shown in a public exhibit.
The interior of the space will be darkened at first, then alit by photos of trees as they turn during the year, sometimes in rain, other times in glaring sunlight. The concept is for the viewer to be immersed in it.
The exhibit takes place at St. Clara Church, which is on Briesestrasse 13, in Berlin, Germany

Much of Schwab's images show everyday life in a manner that is ultra real. She is captivated by the relationship between nature and people, and by how the environment shapes culture.

Adele Schwab has a BS in Physics from MIT and studied photography at the Ostkreuz School of Photography in Berlin. She currently lives and works in Zurich, Switzerland.

The Carl Kruse Arts Blog invites all of its followers to what should be a special and unique exhibit. I will be there the night of the 19th if anyone would like to say hi personally.

===========
The Carl Kruse Arts Blog homepage is at https://carlkruse.net
Contact: carl AT carlkruse DOT com
Other blog posts focusing on photography include, Steve McCurry: Vulnerability Made Immortal and Between Introspection and Surrealism – the Photography of Francesca Woodman.
The blog's last post was on David Bowie's alter ego Major Tom.