by Carl Kruse

From March 25 through May 1, 2022, the Kunstverein Krefeld in Germany will hold a retrospective of the works of Russian-German artist (and friend of our blog) Yury Kharchenko. This solo exhibit will focus on two phases of Kharchenko's work: the first on his so-called Auschwitz paintings, which see superhero figures, such as Superman and Wonder Woman at the gates of Auschwitz; the second on his series of house and flower paintings.

Kharchenko was born in Moscow in 1986 and emigrated with his Jewish family in 1998 to the Dortmund Ruhr region of Germany. For the last 12 years he has made Berlin his home.
Kharchenko explores his Jewish identity with paintings reflecting his family history and the anti-semitism experienced in Germany. He has painted images of his relative Herschel Grynszpan, portraits of Jewish personalities with some association to Germany (and which he feels a connection), such as Freud, Einstein, Kafka and Alfred Flechtheim, as well as other more recent personalities, like Amy Winehouse.
All of this culminates in his most recent Auschwitz paintings, where Disney characters such as Scrooge McDuck and Goofy, action heros like Superman and Batman, characters from cartoon series such as Beavis and Butthead are pictured in front of the Auschwitz gates and the infamous sign — "Arbeit Macht Frei." In doing so, Kharchenko wrestles with the issue of the utopia of heroism (why didn't any super hero stop the holocaust?) and at the same time points to the current decline of the culture of holocaust remembrance.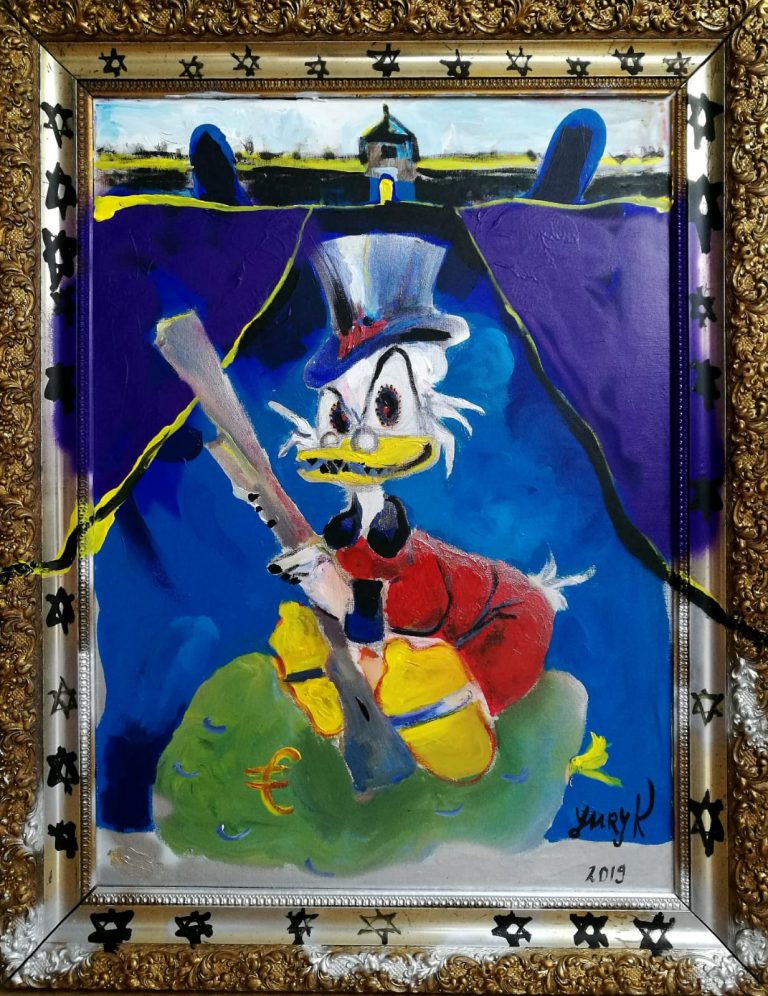 Kharchenko's most recent paintings are those of flowers, depicting large portraits of sunken plants, stems with buds, and unfurled roses. The theme of flowers has become a new cycle for Kharchenko, where he sees a connection to nature and the plasticity, metamorphosis, sensitivity and urge hidden within it to live and unfold, and also to pass away and to revive. His focus on flower buds brings to mind a life not yet unfolded, but perhaps about to unfold.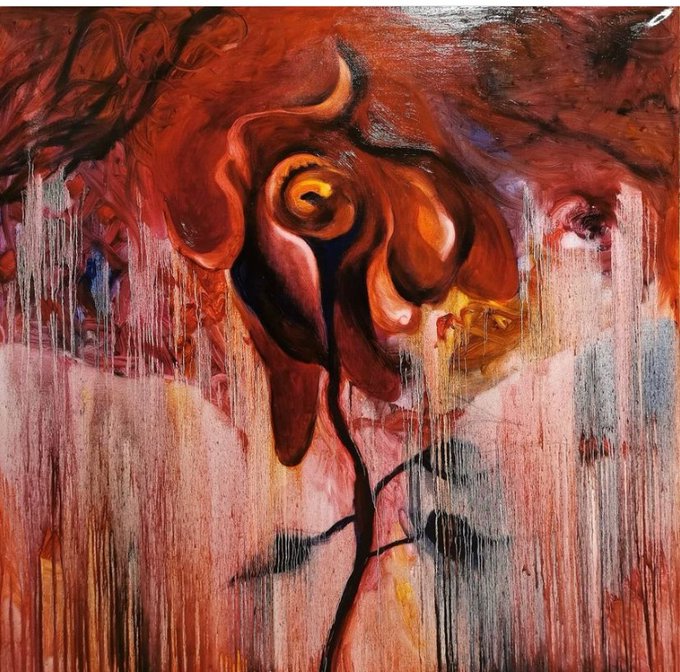 The Rose, oil on canvas, by Yury Kharchenko, January 2022

While his Auschwitz paintings are an existential confrontation with the processing of the horror of the 20th century, his latest images speak of the urge to live and the unfolding of life in the shadow of the world's omnipresent abyss.
The side by side exhibition of Kharchenko's Auschwitz paintings juxtaposed with his flower images might inspire some thought with viewers.
I will be at the opening of the exhibition on March 25, 2022 if anyone would like to say hello. Meet Yury as well.
==================
The Carl Kruse Arts Blog homepage is at https://carlkruse.net
Contact: carl AT carlkruse DOT com
Other blog articles on Yury Kharchenko are here and also here.
The blog's last article was on Metropolis.
Also find Carl Kruse on Vator.