The Boros Bunker in Berlin
By Carl Kruse
What to do with an abandoned, six-story tall World War II bunker in Berlin? If you're Christian Boros, build a 10,000 square-foot penthouse atop, fill lower levels with eclectic post-1990 art and open to the public.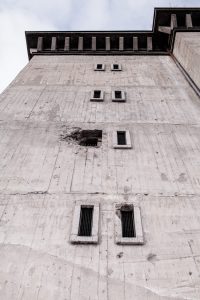 Side view of the Boros Bunker with war damage. Photo: Carl Kruse
The Boros Bunker, originally designed by Albert Speer in 1942 as an air raid shelter for top-level Nazis, metamorphosed into a banana storage during the Communist era, then into a rave hotspot in the 1990's before finding itself in the hands of Christian and Karen Boros.
A five-year renovation by Berlin's Realarchitektur resulted in its present-day glory, receiving the Beton Architectural Prize for 2008.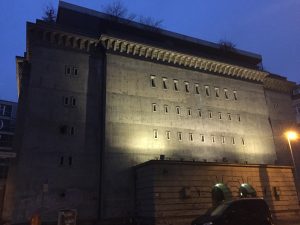 Night descends on the Boros Bunker. Photo: Carl Kruse
A historical structure, home, and private art collection all in one, the bunker is a fantastic testament to what we can do if we want to do it. The artists in the collection include Olafur Eliasson (a favorite of Christian and Karen), Damien Hirst, Elizabeth Payton, Anselm Reyle, Wolfgang Tillmans, and Tobias Rehberger. This is not a museum but a private vision, the personal adventure of two people who love art and gathered what they thought worth gathering. And as they went collecting, they imagined living with all of it (or at least on top of it), which led them to the bunker.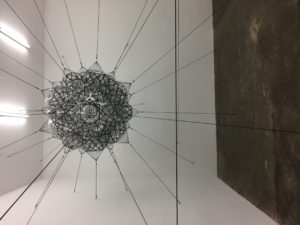 Exhibit within the Boros Bunker. Photo: Carl Kruse
This place is worth a visit when in Berlin. Its collection might leave you wondering what is Art, and why some works are here. Christian Boros perhaps wonders himself as he says that he deliberately buys art that he does not understand. Whatever your impression it is a magnificent project, an adventure, one heck of a wild exploration.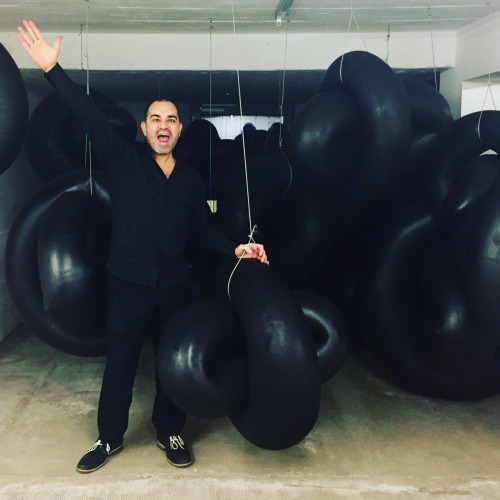 Christian Boros says he deliberately collects art he does not understand, like a series of tires suspended from the ceiling.  Photo:  Carl Kruse in Berlin.

Boros Bunker: Reinhardstr 20, Berlin – Mitte
Contact Carl Kruse:   info AT carlkruse.net
Further links:
BOROS Bunker ( Kruse )
Video of Boros penthouse ( Carl Kruse link) 
An old Carl Kruse blog is here.
Save
Save
Save